Breakfast buffet
Our rich breakfast buffet is not only available to our overnight guests.
You can have breakfast with us daily from 7:30 – 10:30 o'clock.
For 11,50 € / person you can have a good time with us in the morning.
In our breakfast buffet are included among other things: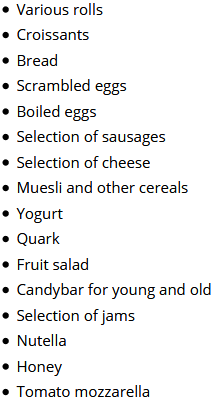 Of course, coffee, tea, water and juices are also included in the price.

If you would like to have breakfast with more than 8 people, please let us know beforehand.
You are welcome to use our online reservation.